Amazon Game Studios pone en marcha la primera gran actualización de 2019 para la Alpha cerrada de su próximo juego MMO open-ended sandbox llamado New World. En esta última actualización han mejorado el combate, han añadido una experiencia de usuario por primera vez, han introducido nuevos enemigos y han implementado Contracts, una función económica impulsada por el jugador.
New World se encuentra en su versión 0.10.0.0
Ahora será posible usar los Trading Posts, un punto donde se podrá colocar órdenes de compra y venta entre los jugadores. El equipo cree que este cambio conducirá a una economía más saludable e incentivará a los jugadores a viajar entre los distintos puestos de avanzada para encontrar las mejores ofertas.
Se han añadido nuevas criaturas como; Legionario corrupto, Pistolero corrupto, Reaver antiguo, Guardia antigua y Marinero ahogado, además de actualizar los requisitos del sistema para el juego.
También se ha añadido el Territory Leaderboards, un sistema completamente nuevo, que espera funcione para ocasionar más diplomacia y conflictos entre guilds de todos los tamaños.
Además de todo esto, han implementado una experiencia de usuario por primera vez, áreas sin ley y actualizaciones de la interfaz de usuario, así como actualizaciones de criaturas enemigas, guerras, habilidades de jugadores, botín y mucho más
La actualización se ha realizado junto a un wipe del mundo del juego, haciendo que Aeternum esté completamente desestabilizado y los testers puedan tomarlo una vez más.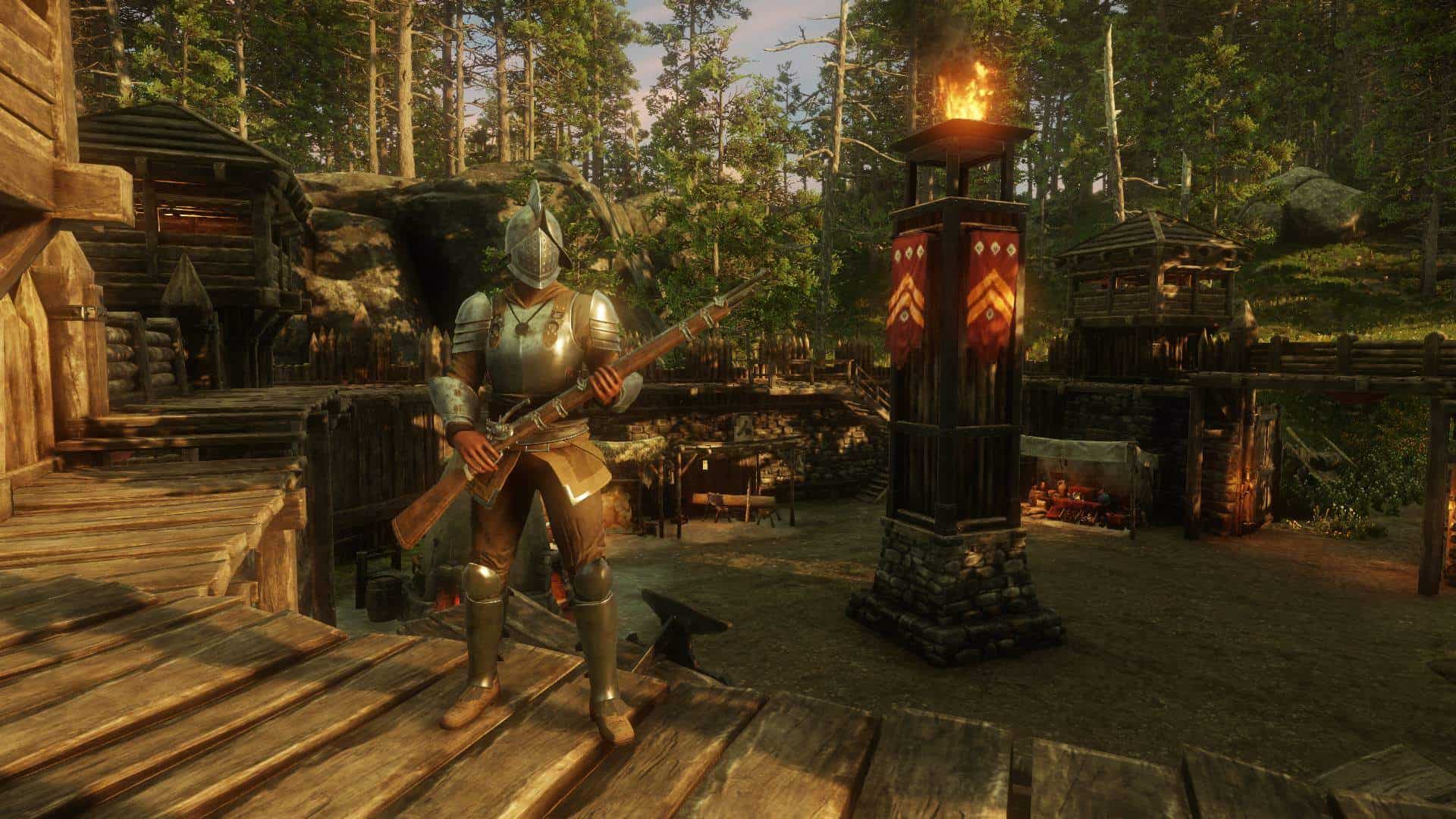 Requisitos del sistema New World
Estas son las especificaciones recomendadas actualmente:
OS: Windows 10 o superior
Procesador: Intel Core i7-2600K / AMD Ryzen 5 1400
Gráficos: NVIDIA GTX 970 / AMD Radeon R9 390X o superior
Memoria: 16GB de RAM
Almacenamiento: SSD
DirectX 12
Notas del parche en inglés
New World: Notas del parche 0.10.0.0
[GAMEPLAY SYSTEMS]
Game Economy
Buy and Sell Orders have been added to the game. You can read about them in this Dev Blog.
The Trading Post now functions as a place to sell Talismans and Vacant Anima for Coin. All other items must be bought and sold from other players.
Trading Posts have been updated to have a local economy focus. This means that the Buy and Sell Orders at each Trading Post are unique to that Trading Post. You cannot remotely buy items.
Skills and Attributes

Removed skills flagged as "Coming Soon" as they were cluttering up the list. We will re-add those items as they become functional.
Removed the Building Skill. It was not performing the way we wanted, and there are other gating mechanisms in place for building structures, so it was redundant.
Retuned skill bonuses provided by crafting skills so there are more appropriate ratios of craftsmanship levels as end results.
Changed the way the respec mechanic works. The ability to respec is now awarded at specific levels. Respecs do not stack, so if you're able to respec and you cross another respec threshold, you will still have one respec. At the level soft cap (currently 80), we begin alternating between Attribute and Skill respecs each time you gain a level.
War
War Targets are no longer vulnerable in Sanctuaries. We wanted to try out War Targets being vulnerable everywhere, but after reviewing play data we've decided to afford War Targets the protection of Sanctuary as well. Now only Criminals will be vulnerable in Sanctuaries.
Shaking up the Keg Meta.  A number of changes have been made which should change the current keg meta and give defenders a fighting chance.

Powder kegs now damage everyone.  The person who ignited it, his friends, groupmates, company members, all neutrals, and enemies.  Everyone.  So be careful around a lit keg.
Powder kegs no longer can be detonated by a single blow from a siege hammer.  We hope this gives defenders time to pick up kegs and makes mini-skirmishes over kegs a part of sieges.
The weight and cost of powder kegs have been increased.
Powder kegs in the character's hotbar will be destroyed on death. We made this change to add additional risk to carrying around Kegs. Additionally, teleporting through the world via suicide while carrying Kegs was not a desirable game mechanic, so it has been removed.
Structures
Azoth Wells now drop their contents when destroyed.
Territory boundaries have been adjusted to make better use of their surrounding area
Camp
In order to get the benefits of regeneration from your Camp, you must now Rest at Camp. To Rest at your camp, approach it and press the Secondary Interact Key (Default R). We made this change because we wanted there to be an opportunity cost to using a camp to recover. We advise you not to rely on this regeneration in combat going forward, as it will likely get you hurt or killed.
Resting at camp will recover Health more quickly than the previous camp regeneration rates.
Resources and Loot
Alchemy resources can now be salvaged to their lower-tier counterparts. The community requested this quality of life change.
POI loot has been overhauled. Expect to find a wider variety of things as you scavenge POIs. Enemy placement in a number of encounters has also been adjusted to support the new loot placement
Creature loot has been overhauled. Expect to find a wider variety of things as you loot them.
Humanoid mobs all have a chance to drop relevant equipment. While this equipment is tiered, all of it is "Worn" so its performance will be below its tier. Any completed equipment dropped by an enemy NPC will be weaker than its crafted counterpart.
Lawlessness, Lawless Areas, and Lawless Outposts
2 Lawless Areas have been added to the game: the island in Brightwood and Myrkgard in the far north.
2 Lawless Outposts have been added to the game: one in Weaver's Fen and another in The Great Cleave.
When your character is in a Lawless Area, any attacks either by or against them are not penalized. However, in order to harm another player in a Lawless Area, you must activate your Criminal Intent. You can read more about Lawless Areas in this Dev Blog!
[Creatures and AI]
Added five new creatures for players to battle against.

Corrupted Legionnaire
Corrupted Pistoleer
Ancient Reaver
Ancient Guard
Drowned Sailor

Dynamic Obstacle Avoidance.  We've added code which allows creatures to avoid dynamic (i.e. moving) objects.  For our initial test case, we've add this functionality to the Withered.  They should now avoid each other and run at the player in more natural way.
Unreachable Behavior.  When creatures can't find a way to the get to the player they will now taunt for a bit and then retreat back to their spawn location.  This should make trying to "cheese" AI by getting on unreachable perches non-advantageous.  This has initially been set up for bears and wolves, but will be added to more characters in the future.  We will also add health regen as the enemies retreat in the future.
Deaths Door Finishing.  AI will now consistently finish off the player when they take them down to Death's Door (after all other available targets are dead).
Withered Tuning.  The Withered flurry attacks have been toned down.  The first attack in the flurry will still cause a fully-committed reaction, but subsequent reactions are layered, so the player can attack out of them.  This should greatly reduce the feeling of stun-locked when fighting Withered.  But the Withered now apply a Disease affliction, so be careful.
Corrupted Range Tuning.  Reduced the range from which Corrupted Musketeer and Ranger will perceive and attack the player.
Bear Updates.  Changed the name of the brown bear to Grizzly Bear and increased its overall difficulty.  Reduced the difficulty of the Black Bear and adjusted its attacks so it will no longer using standing attacks.
[Player eXperience]
Combat Enhancements.  See the State of Combat – Part 2 blog for much more detail:

A few small additional changes were made after the blog post to further refine balance:

Weapon coatings were tuned down to match the reduction in melee damage
Light and sprint attacks now do some minimal chip damage
Scaling of heals from the Celestial Gauntlet have been reduced
Removed bonus mana regen from investing in Focus, now it only increases maximum mana pool

AFK Kick.  Players will now be booted from the server if they are inactive for 15 minutes
Building Exploit Squashed.  Dead bodies and logged off characters will no longer be impassible or stop building.
Gathering without Stamina.  Players can now gather even though they don't have stamina.
No more pyramids.  We have adjusted collision so that players will slide off other players when attempting to stand on top of each other.  Thanks to everyone for finding and posting about this undesirable behavior.
[SOCIAL & UX/UI]
First Time User Experience
New characters will now be given a more guided on-boarding experience in their first moments.
This is meant to teach basics game mechanics, while introducing basic lore and backstory elements.
Additional contextual tutorialization will be introduced to the game in a coming release. Our goal with this FTUE is to allow new users to enter the game with basic knowledge of controls, combat, and survival.
Trading Post UX
Along with the introduction of the localized player-to-player economy, we have fully re-built the UI around Trading Posts. Some highlights of what's new:
Outposts

New banners display the name of the Outpost and the number of buy/sell posts available

Searching and Filtering

Browsing the P2P buy/sell postings at the Trading Post are now much easier.
Search

You can search for items!
The implementation of this is V1, meaning the search is not as 'smart' as it will be in future implementations.

Filtering

Use the Item Type filter to drill down on items of interest by navigating a categorical heirarchy, starting with Weapons/Tools/etc.
Filter items for sale by Can Equip (if you have the attributes required to use the item) and Can Afford.

Browse other Outposts Trading Posts

You can only complete buy/sell orders from the Outpost you are physically at, but you can view orders at all other outposts.

Sell All

Quickly sell all Corrupted Kill Items (Talismans and Anima) with a single click
Sell your items to open Buy Orders one at a time, OR with a 'sell all' button that sells to multiple Buy Orders at once for the highest possible price.

Instant Outpost Storage access

When browsing your owned items to find things to sell, you'll be able to browse your Inventory AND your local Outpost Storage at the same time. No more schlepping items from Storage to the Trading Post!
Please note this UI is in a very young, V1 state. Please give as much feedback as you can about any bugs or user friction you encounter.
Known issues and intended future improvements:
Basic implementation, will not be as easy as we'd like to get a sense of an item's value at different Outposts
In the future we will implement a rolling average of buy/sell transactions so that you can quickly see any item's average value
You cannot sort items by 'in bag,' so the most efficient way to Sell your items will be Sell / My Inventory + Storage which lists your inventory on the left, and clicking items one-by-one.

Smoothing this flow out by allowing you to browse all Buy Orders and sort by 'owned' is top priority for the next version.

Buy/Sell Order counts are not exactly up-to-date.
You can't identify your own buy/sell orders when browsing the list. This is also a top-priority issue for V2.
We are actively working through a known bug list for the UI, both functionality and points of confusion/friction.
We are aware of improvements we need to make to messaging and flows around such things as:

Fee requirements
Interacting with Coin amounts due to new 'dollars and cents' format
My Buy/Sell Orders, both in general lists and in My Orders tab
General Navigation
Notifications/awareness of orders completing or expiring while you are away from Outpost of offline
Territory Leaderboards
A small, V1 leaderboard system to celebrate the success of the settler Companies of New World.
Company Switching Cooldown
When you leave a Company, you will not be able to join a new Company for 24 hours.
When you leave a Company, you will not be able to re-join that Company for 7 days.
This feature has been highly requested from our Alpha community, but we are eager to hear feedback about this implementation. Here are some of the concerns we have:
May cause pain for for new players trying to find the right Company to join, who may be adversely affected by the 24 hour cooldown.
May cause pain for smaller Companies trying to re-organize and recruit in response to wars.
Will restrict or even eliminate the ability to drop Company for the purposes of combat training.

We have a fix in mind for this and have it highly prioritized.
The cooldown time values are tunable, and we will be watching this closely. The current values of 24 hours / 7 days are on the highest, most restrictive end of the spectrum. Our goal for this feature is to minimize Company-switching as an exploiting tool, or a way to avoid War/Sieges. But we don't want it to interfere with new users finding the right Company, or with small Companies doing recruiting. Finding the right tuning values here is extremely important to us and we look forward to your testing feedback.
Other New Stuff
You can now view your Outpost Storage at any outpost using the Map. To do so, click on the outpost and View Storage.

NOTE: This is a V1 implementation, expect improvements in the future to the general UX of how this works, plus the addition of the storage capacity meter which currently does not display on the Map view.

When your structures are damaged, their location will 'ping' on your Map and Compass.

Never wonder which Azoth Well is being attacked ever again!
NOTE: Please give us feedback about how spammy this feels in practice.

Crafted items will no longer automatically equip. A new 'Equip Now' button allows you to quickly equip items once crafted.

This is another item we want feedback on. This will reduce friction when you are trying to stay at a light Equip Weight, but may create friction for New Players like crafting Arrows and forgetting to equip them.

Coin values now have 'dollars and cents'

In service of a recent coin value tuning pass. Some of the user experience around inputting coin amounts is less than ideal right now. This will be improved in the future.
Over 300 bugs fixed, including…
Issues with stealth and Nearby People have been addressed.

You should no longer be able to see players in Nearby People or their nameplates if they are in stealth (crouch/prone, and not within your direct vision).

Graveyard icons no longer display on Compass
Nearby and Chat avatar BG color fixed, now correctly displays company BG color
Bugs with voice chat fixed, causing it to be disabled incorrectly.
Crafting screen now correctly updates with new 'have' counts for ingredients as you craft with them.
Friend invites no longer become invalid when logging in with pending friend invites.
Healing and damage numbers no longer overlap on nameplate
Chat system bug fixed resulting in whisper recipients not always being found
Low health in vitals now flashes making it easier to see
[Scale and Performance]
We fixed issues affecting the proper detection of your hardware settings the first time you boot the title.
We have improved the look of distant trees, cliffs and rocks with better shadowing.
We have improved transition of lighting at dawn and dusk.
We have optimized memory performance for terrain and ground cover.
We have improved the performance of ground cover on lower graphical settings.
Several graphical bug fixes and improvements..
Waypoints should no longer be forgotten after logging back in
Stamina bars should now update properly
Player nameplates should no longer be always visible when players are within 30 yards of another player
The Sanctuary icon should no longer get stuck on screen after loading into the world
Structure permissions are once again working correctly
Voice chat is once more functional after first logging into the world
Microphone sensitivity no longer defaults to zero
Tooltips should once more work while creating a new character
Post Order popup should no longer get overwritten
Repair UIC should once again be readable
The Elk Bull's charge attack will once again brutalize players deal damage
Players should no longer experience issues breaking down their camps after completing the First Time User Experience
Azoth drop rate reduced.
Draught drops reduced.
Withered no longer drop linen.
Sandpaper now correctly drops in the game.
Added catalysts to alchemy tables
Removed player collision from Sanctuary Outposts.
Fixed a bug where players could be locked in the crafting animation when crafting an item using resources from their hotbar.
Terrain and vegetation should load in more reliably for players with slower hard drives.
Fixed a bug that prevented players from placing blueprints with a drawn weapon.
Voice should now work properly on the player's first entry into the world.
Fixed an issue that could render chat invisible until players pressed [Enter].
Domestic animals now correctly require an animal pen.